What adding on, digging down or a second-level could do for your house if you live in Metro Vancouver.
Do you feel like your home is bursting at the seams? No playroom, no guest bedroom, no room for everyone to go to their own room? If you've already made the best use of what you already have, it might be time to dig down, go up or build out. If an addition makes sense with your home's structure and site, building out, rather than up or down, can be more affordable. But there's still plenty to think about before getting started. When you're adding space to your home, there are usually three options: down, out or up. Knowing which is right for you means weighing a number considerations — from cost and design, to function and feasibility.
Rather than using up precious ground area and building a new foundation, adding a second floor addition to a rancher like this one is a great and cost effective way to get that extra space eliminating the high cost of excavating.
This understated rancher in South Burnaby (below) makes a big statement after adding a side and rear extension, a second level and a multi-gabled roof with a myriad of dormers featuring angular vaulted ceilings. Fir-clad exposed beams now support the building's original rear wall which visually lengthens the contours — providing rich, textural contrast to the millwork's smooth, dark-stained finish. Ledgestone accents, wood soffits and the chimney cap give a contemporary twist to traditional styling commonplace here on the west coast. Taking the top off this homestead gets high marks for drama. View the de-construction and progression of this impressive home addition renovation in this Flickr photo timeline.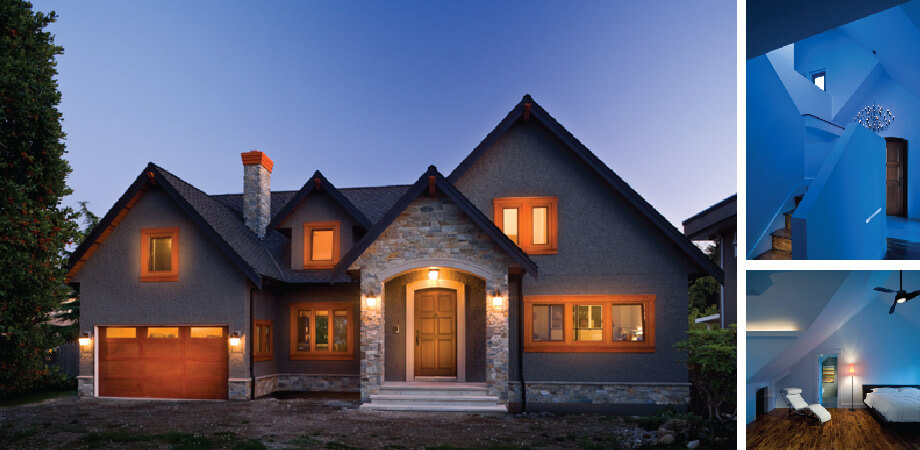 A vaulted ceiling or a small 'bump-out' can yield big results, particularly in kitchens for which a small extension of space makes all the difference. Adding just 3 or 4 feet to a cramped kitchen can open up a world of possibilities for appliances, additional cabinetry or a kitchen island for entertaining. Typically, re-configuring unused deck space or re-purposing a side or rear entrance 'add up' to valuable square footage. This local case study of a side addition renovation of a kitchen in South Vancouver lends a great example. There are multiple benefits to adding a room above your garage. Over-the-garage additions have a huge impact on curb appeal of your home since they usually face the street and tend to be large. Considering the size of a typical two-car garage (24 feet by 24 feet, or bigger), installing a finely finished garage bonus room can drastically increase not only the visual appeal, but also the resale value of your home. The most common choice for this type of expansion is a bonus room, office, 'man cave' or play area.
If you have a basement rental suite that is unfinished, or wish to re-configure one as an in-law suite for family, a dig-down addition may be the best way to go. If you have good ceiling height, finishing this space will likely be the least expensive way to go.
Main-level additions are often the simplest structurally. They can be built to code without having to retrofit much of the existing home or its foundation, which often require structural retrofitting down to the foundation, removing siding and disturbing interior walls. The trick with main-level additions is connecting the new foundation to the old one if the original foundation is made from brick or another masonry material. It could be far simpler than having to completely replace the foundation to build up.
There's a valuable bonus to building-out rather than up or down. Often the groundwork, concrete and framing for the addition can be under way for at least two weeks before construction interrupts your existing living space. If the scope of work is limited to the addition itself, you won't have to pay for a temporary move into a rental space.
If you live in a picturesque location, a second storey is a great way to take advantage of the amazing views that your area has to offer. In fact, many of our house expansions are clients that live near the ocean  or reside on mountainous areas such as South Slope Burnaby or New Westminster, where one can take in the breathtaking view from their second level add on or deck extension. Truly, why not build a balcony where you can maximize space and fully enjoy outdoor living to the max? A simply sunroom addition adds additional natural sunlight to surrounding rooms and can be enjoyed during the cold winter months.
Should the need to sell arise, building a quality second storey can raise the market value of your home, especially if your neighbourhood undergoes  gentrification. Once a land of spacious abodes, Vancouver is becoming over crowded. Residents are feeling the squeeze now living at densities as high as 350 people for every square kilometer in some clusters in the region. Here, more multifamily homes are built in the suburban communities than single-family every year.
If you need more room and moving is not your foremost option, home additions are one of the many ways you can transform your current residence into the dream home you always wanted. If you are serious about building an addition to your home — or just mildly curious, give us a call 604.430.9900. We are experts in complex renovations and home additions. Alternatively, fill out our online form for a complimentary consultation.